Photography
In addition to computers I also enjoy photography.
In particular wildlife photography and tabletop photography (for Anime Figures).
Currently I found Canon brand of photo equipment to be pretty rewarding and not outrageously expensive at the same time.
In my photo journey I have found Photography on The Net forum to be a very valuable resource.
Another super-useful resource is of course The Strobist blog from whom I learned most of what I know about lighting. If you enjoy photography and have not visited Strobist yet, check it soon!
Mandatory picture of my gear.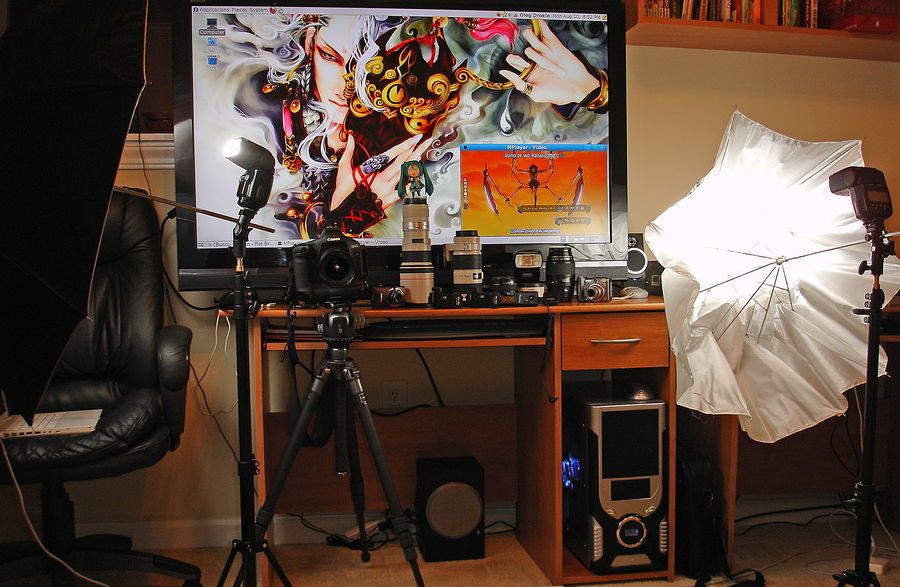 Here you can see my Canon 1Dmk3, with Canon 17-40/F4 and on the table are:
back row: Canon 400/F5.6, Canon 70-200/F4IS (both are rarely used for figures though), Canon 50/F1.4, 1.4x teleconvertor, Canon 100/F2.8 Macro.
Front row is my 2 backup cameras: Canon A590IS and Canon SD1100IS that are very useful when I do not bring a lot of expensive and heavy gear with me e.g. because I am going to visit some dangerous place (like Moscow ;) ).
With help of CHDK (again, highly recommended) you can do all kinds of cool stuff with these little cameras. The only downside is the sensor is quite small, so diffraction and noise are really apparent (esp. at high ISOs).
Also in the front row are my remote triggers for flashes and remote control for the Canon 1D, all bought relatively cheap on ebay.
At the very far row also my Canon 580 EX II flash.
At the sides are my two light stands with umbrellas (I have 2 silver and 2 white for passthrough) and my tripod (with really-right-stuff head - really recommended too).

On the stands are 2 Nikon SB-26 flashes - really nice piece of old gear I got cheap off ebay as well. While they do not do Canon TTL stuff (which I rarely use and for what I have my Canon flash), they have optical triggers which is really helpful and I can trigger them even with my point and shoots, if needed (as demonstrated on this picture too).
Also since the "all gear" picture was taken, I also got some more stuff. Now I have 5 Nikon SB-26 flashes, also

Canon 5D MkII. Really great camera that we decided to buy instead of Canon 7D that we considered first.
Originally we bought it for Ksusha to carry around and also to shoot videos, but I was so impressed with the pictures that this is now pretty much our main camera. 1Dmk3 is now rarely used, mostly for shoots in super-dark environment.
Also Ksusha likes it a lot too so sometimes she uses it and them I am forced to fall mack to 1Dmk3.

Canon 24-70 F2.8L lens.

Lumopro SuperClamp. Prety convenient tool to mount flashes around.

And a spring clam from Manfrotto. Also pretty convenient for the same purpose, but mostly for thinner surfaces.

And a new addition from summer 2011: Olympus E-PL2 system for covert operations.

Left to right: Olympus 40-150, Panasonic Lumix 20/1.7 "pancake", Olympus 14-42. More info here.
»